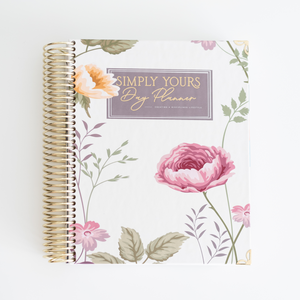 Garden
Sale price Price $ 50.00 Regular price
Tax included.
Our planners are more than just calendars; they are thoughtfully crafted tools that empower you to shape your time according to your unique aspirations and priorities. From personal to professional commitments, our planners provide the perfect canvas to plan out your days, weeks, and months ahead, ensuring that no task or goal goes unnoticed.
Available in two versatile formats: Weekly and Daily.
Dimensions: 7 x 9
Durable hardcover
Gold Metal coil binding
14 Tabs
2-page monthly calendar spread
Classic, modern cover designs to choose from
Extra journal pages
Space for vacation planning
Space for monthly expenses
Goal setting worksheets
Year-in-review pages

... and more

All orders will be shipped within 5-7 business days.
Care for your Cover

Each planner has a scuff-resistant matte hardcover which allows you to remove surface scratches and smudges. To clean your front and back cover, use a towel or a mildly damp cloth. Your cover will look brand new all year long!
LOVE!!
I loooooove this planner!! Felt great to get my ideas on paper and dream big! I also like that there was space to set some realistic goals and small action steps to celebrate every victory! I also love the bookmark, pen loop, and pen. The paper feels great! I will buy again!
Perfect and Love it!!!
This is my first planner and I have to admit, I was not disappointed. This planner is fantastic!!! I'm in my 50s and I needed to set some serious goals while keeping track of my business. Since planners can be costly, I researched a few and watched different YouTube influencers in order to pick the best one for me. I chose the daily planner and it is soooo perfect! It can even help me track my daily water intake! It has a place for my goals and a nice section for tracking bills. Everything I need to get my life on a positive track. Most of all, I love supporting a professional product from Black Owned Company!
Love it!!!!
So much FUN and EXCITEMENT!!! Absolutely Thrilled by the thoughtful details and elegant presentation!!!
Proper Presentation
I waited a long time to receive this planner, but it didn't disappoint. The tissue wrapping and ribbon hinted at something special inside. Opening my planner, and seeing my personalized name on the title page was so, so cool. I can't speak highly enough about the presentation and packaging. My only caveat would be that my previous planner included thicker and more 'toothsome' paper. That being said, the goal prompts and detailed layout were exceptional and I will be ordering this one again in the future. Well done!
The Planner I've Been Searching For!
I love these planners! I have been a steady customer for several years now, and the planners just keep getting better. I love all the custom options! I couldn't live my life without it!